Klik op deze vlag voor een Nederlandstalige versie van het verhaal.
FADE IN:
EXTERIOR OF LIGHT AIRCRAFT's OPEN SIDE DOOR - MEDIUM SHOT - DAY
DRONE of aircraft engine is heard as titles appear against the barely recognisable out-of-focus shot. INSTRUCTOR's voice BARKS from time to time.
A blurred figure leaps from the aircraft door. This routine is repeated several times as student skydivers exit. When the titles come to an end, the focus sharpens and the last student leaps. The instructor, crouching in the doorway, is seen looking down, following the student's progress. He gives a satisfactory nod, and turns to address someone in the aircraft's interior.
Cluck cluck, better follow my chicks.
He leaps. The doorway is empty. Just visible beyond it, we see the PILOT with headphones on. ANOTHER SKYDIVER, a tall, foreboding man, approaches the doorway with the liquid movements of a somnambulist. His thumbs appear on the rim as he steadies himself. He looks down, then turns his head in the direction of the pilot, who now turns to look at the middle-aged, bearded and moustachioed skydiver. Focus sharpens on the pilot, who makes an upward spiral with his right hand, index finger pointing upwards. Focus pulls back to skydiver, who signals four kilometres by holding up four fingers of one hand. Wisps of white cloud come between the camera and the aircraft. During a white-out the DRONE of the engine changes tone, indicating the passage of time. The cloud clears and we see the skydiver in the open doorway again. Slowly his hands move to the chest strap of his harness, which he unbuckles while staring absently into the distance. Now his hands move to the large buckles of his thigh straps, and he unclips these too. The DRONE of the engine increases in volume, and a FRENETIC DRUMBEAT kicks in. The skydiver's hands have moved to the shoulder straps. The absent look is shed, and a look of peacefulness appears to pour over him. Focus changes to pilot as he turns his head. His eyes fill with horror and he screams silently.
The parachute container drops to the floor, and the skydiver leaps, leaving it behind. The focus pulls back instantly to a LONG SHOT of the aircraft, with the tiny figure of the skydiver plummeting to his death.
INTERIOR NEWSROOM - CLOSE-UP - DAY
The skydiver's head, beaded in sweat, jerks as if awakening from a nightmare. He wipes his brow. We hear the WHITE SOUND of computer keys being pounded as the focus pulls back to a LONG SHOT, to reveal many journalists in a bleak, fluorescent-lit office. In the centre sits SIGURD OLIVIER (the skydiver). He is dressed in a suit, sitting at his desk and staring despondently into space.
OVER-THE-SHOULDER OF SIGURD's WORK SPACE - MEDIUM SHOT - DAY
Open in front of him is a package containing the hundreds of pages of a manuscript. His vacant gaze drifts slowly down to the letter in his hand. He leans forward and pins it to a pin board, where it joins a host of other, similar letters among photographs of himself skydiving. He keeps staring at the board as RICK STRUVE, the city editor, moves into frame. He brandishes a sheet of copy.
We've got the makings of a good story here, but all you've given me is bare bones. Where's the flesh! (Lowers voice). This is what I'd expect from a cub reporter, not from someone of your experience. Huh?
He notices Sigurd staring vacantly at the pin board, and follows his gaze.
RICK
(trying to sound sympathetic)
Another rejection, huh? Well, you know what they say? Perseverance pays. There are plenty of publishers out there-
No. If I can't get the message after 39 rejections, well, I must be as thick as two short planks. The truth is, Rick, they don't want my masterpiece. (Pause). And it was meant to be my ticket out of this hell-hole-
Hell-hole! You're working for one of the best newspapers in-
Sure. So was Paul. Before he put a bullet through his head. And Joep, before he gassed himself last year. And Wagner, who cannot even recognise his own wife and kid anymore he's cracked up so bad. I'm scared, Rick, scared I might be next. Only bad news is news and you can't keep digging around in all that shit without getting spattered.
He gets up and we TRACK with him as he walks to a window, where he stands with his back to us.
SIGURD
(muttering to himself)
There must be another way. There must be.
The NOISE of computer keys being pounded increases. Rick moves into frame and puts his hand on Sigurd's shoulder.
Come on, I'll buy you lunch.
EXTERIOR - WINDOW - DAY
Sigurd is standing in the window. Instead of the sound of computer keys we hear MUSIC of street artistes and the bustle of a crowd. The LIGHT has changed from cold to warm. Sigurd stands motionless, staring out before him, till Rick, with an arm around his shoulders, sweeps him off to lunch. The CAMERA HOLDS on the empty window as the SOUND of the music and the bustle below gradually increases, with occasional cheers thrown in, and now the camera PULLS BACK slowly to take in the panorama of the famous Amsterdam square, Leidseplein, below. The CAMERA drops till we are looking just over the heads of the crowd, and we see their POINT OF VIEW of a unicyclist juggling fire-sticks. The SONG "Walkabout in Paradise" dominates while the juggler entertains the crowd.
On Leidseplein we listened well
The juggler he did say:
The juggler throws all his sticks high into the air, then CAMERA zooms in lightning fast on his face as he sings, on cue.
Paradise my friend you'll find
At a place called Bingil Bay
The SONG continues, softer now.
EXT. LONG SHOT - JUGGLER
We hear WHOOSH WHOOSH WHOOSH as he catches the three fire-sticks. He cycles back and forth as the crowd cheers.
FADE OUT
EXT. RESTAURANT TERRACE ON LEIDSEPLEIN - DAY
Rick and Sigurd are sitting at a table at the end of lunch. In the background is the crowd still watching the street artistes. The table is covered with dirty plates, coffee cups, wine bottle, one glass on Rick's side, several glasses of different shape on Sigurd's side. He looks somewhat wild.
...I am. And not only me. We're all in chains. Society has created us in its own image. Only I want a way out. I'm looking for a window in that brick wall where I can climb through-
Alice "Through the Looking Glass"... the "Never Ending Story"... You're not the first person to fantasize about a Shangri-la-
But that's just it, don't you see? I don't want to fantasize about it. I want to actually do it! Only- (close to tears) I can't find that window in the wall.
Look, you've been under a lot of strain at home. Is Viv still pressing for a divorce?
Sigurd rocks more than nods. He is lost in his thoughts. Rick calls for the bill, pays, and they leave the table, moving in the direction of the crowd. The CAMERA rises slightly so we can see over their heads. A CLOWN is doing his routine. He is dressed in white bunny suit with large red dots, oversized shoes, painted face and red nose that HOOTS when it is pressed.
EXT. LEIDSEPLEIN - DAY
The clown, his back to us, is performing, while facing him a ROW OF FOUR GIRLS, aged around 10, with school satchels on their backs, their arms linked, are mischievously mimicking his every move. At first he tries to proceed with his routine, then realises he can play in on this. His movements become more and more convoluted, with him pausing regularly to allow the girls - if they dare - to double his act. And game they certainly are! Rick and Sigurd are seen joining the crowd at the back. Sigurd's face lights up. He starts to push through the crowd, stops to look back over his shoulder, beckons Rick. Rick rolls his eyes to heaven, then motions impatiently for Sigurd to come along now. But Sigurd is moving with the overexcitement of one who has found that window in the wall. Highly irritated, Rick walks briskly off to the newsroom. Sigurd presses on till he is in the front row of the crowd, right behind the four girls. He watches them, then with hesitant movements half mimics them. Very quickly he gets into the full swing of things, links arms with spectators on either side of him, they link with others, till the entire front row is mimicking the clown in unison. He kicks up his left leg, they kick up their left legs. He throws back his head, they throw back their heads. It ends with him falling over backwards, and the crowd doing likewise, landing in a heap of abandoned laughter.
EXT. WINDOW - DAY
Rick is framed in the window. Next to him is a much older man, the EDITOR. They stare soberly down on the square.
EXT. LEIDSEPLEIN - LONG SHOT - DAY
The crowd disperses as the clown packs up the tools of his trade, and a group of PERUVIAN MUSICIANS in colourful hand-woven capes move in to take up their positions.
EXT. LEIDSEPLEIN - DAY
CAMERA, at ground level, TRACKS behind Sigurd as he walks through the thinning crowd, towards a bench. Just as he has settled himself on the right of the bench, another figure falls into frame on the left. It is the juggler. Sigurd appears excited, but nervous: it is scary to find oneself on the other side of that brick wall. The juggler lights a joint, inhales deeply and with immense satisfaction, then without looking sideways he offers the joint to Sigurd. Should he, shouldn't he? He takes it and puffs.
Transmission of the light.
This? (Holding up the joint.)
No. (He gestures towards the centre of the square.) What happened out there.
You were great. Thank you-
JUGGLER
(turning dramatically towards Sigurd)
It is I who must thank you! "The raincloud was full, and was grateful to the earth for receiving its water."
The juggler takes the joint from Sigurd. It passes back and forth, and they smoke in silence, yet in that silence much is being communicated: we can feel the current flowing from the juggler to Sigurd.
CROSS DISSOLVE
EXT. LEIDSEPLEIN - DAY
The same CAMERA angle as before. It is late afternoon, the LIGHT is warmer, the shadows longer. The juggler is continuing his story.
....Come winter, and I fly off to the Canaries or go Down Under, Australia.
And you make good money there?
In Sydney, Melbourne, yes. They're more receptive than you might think, though it's musicians who are best received. Music, you see, is where the Aussies expose their souls. But there's another reason I go to Australia for the winter - our winter. And the reason is, Bingil Bay. The rainforest comes right down to the highwater mark. The Pacific is terrific, warm as soup, and just off the coast lies the Great Barrier Reef. Man, when you go diving there you don't need this (he holds up a joint) to have a psychedelic trip. As someone once said: "It's as if you had died and found yourself in heaven, it's that beautiful." That's where I go to unwind.
You certainly have a wonderful life.
The juggler considers whether or not to deflower the naive white-collar worker, but decides to be kind.
Swings and roundabouts. Swings and roundabouts. The main thing is to follow your heart. Yup, that's the main thing.
FADE OUT
FADE IN
EXT. LEIDSEPLEIN - LONG SHOT - DUSK
Bird's-eye-view of the square. We hear the SONG "Some Men Climb the Mountain". The CAMERA HOLDS this angle for the next few takes. We can clearly see the bench on which the juggler and Sigurd are sitting, exchanging the odd word, while the square bustles with trams and people going home in the evening rush. We hear the CLANGING of trams.
CROSS DISSOLVE
EXT. LEIDSEPLEIN - LONG SHOT - EARLY EVENING
The lights have come on. The square is almost deserted. The juggler gets up, swings a large hold-all bag over one shoulder, takes his unicycle in the other hand, Sigurd gives a little wave, and the juggler moves across the square, out of frame.
CROSS DISSOLVE
EXT. LEIDSEPLEIN - LONG SHOT - NIGHT
The square has filled up again with the night crowd, who are looking for excitement. Several groups are busking in different parts of the square. Sigurd still sits on the same bench.
CROSS DISSOLVE
EXT. LEIDSEPLEIN - NIGHT
The crowd has thinned. Now there is only one group busking, SPANISH MUSICIANS with a WOMAN FLAMENCO DANCER. As we HEAR them play the INTRODUCTION to their next number, we see Sigurd rise and saunter off left, out of frame.
EXT. LEIDSEPLEIN - NIGHT
CAMERA is at ground level, and we see the male Spanish guitarists. They PLAY and SING "Till the Singer is the Song". When they come to the second part: "And the same for the dance, here again there is the chance, for the dancer to advance and be the dance", the woman whirls across in the foreground, skirts flairing and castanets clattering. As they go into a second round the MUSIC SPILLS OVER into the next scene, then gradually fades.
EXT. A FAIR IN FRONT OF THE PALACE ON THE DAM SQUARE - LONG SHOT - NIGHT
The bright lights, spinning rides, and SQUEALS of delight form a sharp contrast to a brooding Sigurd walking past in the foreground.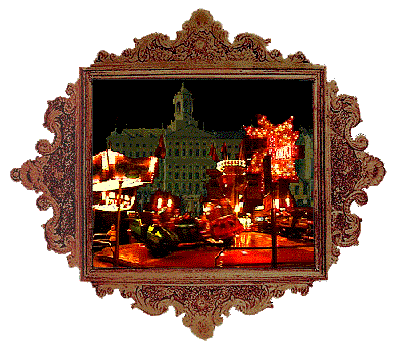 EXT. RED LIGHT DISTRICT - LONG SHOT - NIGHT
Hands deep in pockets, Sigurd is now almost in a trance as he passes prostitutes' windows, bathed in eery blue light, oblivious of their beckoning.
EXT. DOCKS - MEDIUM SHOT - NIGHT
Sigurd is standing, back to camera, the toes of his shoes just over the edge of the quayside. He sways precariously. CAMERA closes in and rises to above Sigurd's head, so we see his POINT OF VIEW of the water. Lights reflected in the water twinkle. As the MUSIC becomes ominous, liquid and whoosy, the water below starts whirling, faster and faster, the music building to a screeching crescendo. A vortex opens and we are sucked into it.
FADE OUT
INT. PSYCHIATRIC WARD - CLOSE-UP - DAY
We see a PATIENT'S head, three-quarters from behind, as he listens intently to the ATMOSPHERIC CRACKLE of a radio resting on his shoulder and pressed close to his ear. OVER HIS SHOULDER we see a row of beds, some with patients, and at the end of the row lies Sigurd, in white hospital clothes, banging his calves repeatedly on the iron foot-end of his bed. We TRACK with the radio and its listener as they advance towards Sigurd, whose teeth are clenched tightly and who is sweating profusely.
There! There! You hear that? That's them. Ha ha haa, they're coming through loud and clear. Imagine that, all the way from the Pleiades! (He starts screaming hysterically.) Take me with you! Take me with you...
Get away from me, you madman! Can't you see I'm being eaten up? From the inside? They're in my veins! They're in my veins!
SIGURD'S POINT-OF-VIEW
The radio listener looks startled. Behind him a few other PATIENTS shuffle forward, looking on uncomprehendingly.
CLOSE-UP OF SIGURD
He appears startled too. Then his face screws up, and the tears start to flow, ever more, ever more....
FADE OUT
EXT. LEIDSEPLEIN - LONG SHOT - DAY
The same high angle as before. Under an overcast sky, the autumn WIND blows leaves across the almost deserted square. Sigurd is sitting alone on the same bench as before, but wrapped now in a warm overcoat and scarf. He is the loneliest person on earth.
FADE OUT
INT. RESTAURANT KITCHEN - LONG SHOT - NIGHT
The usual pandemonium of a restaurant at peak time reigns. All about are chefs and kitchen helpers. A great cloud of steam rises, HISSING, and into this mist looms Sigurd, CLOSE-UP, to extricate another load of dishes from the industrial-sized dish washer. He wears a blue-and-white scull cap, apron and galoshes, and often has to wipe the sweat from his face with his sleeve.
CROSS DISSOLVE
INT. RESTAURANT KITCHEN - LONG SHOT - DAY
The kitchen is quiet. A few kitchen hands are chopping vegetables. One of them is Sigurd. In the background one man is standing at the open back door, blowing his cigarette smoke into the alley.
EXT. ALLEYWAY - LONG SHOT - NIGHT
A door opens and two kitchen workers emerge. They say goodnight and walk off in opposite directions. The one walking towards us is Sigurd. He counts his money, puts it in his wallet and pockets this. As he draws level with us, the CAMERA follows him. He turns a corner and enters LEIDSEPLEIN. OVER HIS SHOULDER we see a small collapsible table and two stools, where a FORTUNE-TELLER, cocooned in warm cape with hood, is holding the hand of a RICH SOCIETY LADY, palm up, and doing a reading for her. Sigurd does not appear to notice them at first, but when almost past, turns his head to cast a peremptory glance in their direction, then continues resolutely on.
INT. RESTAURANT KITCHEN - MEDIUM SHOT - DAY
Sigurd is seen adding the final touches to a row of salad bowls. The MAÎTRE d'HÔTEL arrives and surveys his handiwork imperiously.
People eat with their eyes too! Can you not try and make it a trifle more aesthetically pleasing? Huh?
He sweeps two bowls from the table. The CAMERA follows him as he strides hautily through the swing doors, into the restaurant.
CLOSE-UP
Sigurd has a stunned expression.
OVER-THE-SHOULDER SHOT OF KITCHEN WORKERS
One of them throws his head back in imitation of the maître d'hotel's hautiness, and with the tip of one finger strokes the tip of his nose in little upwards movements. The others giggle, albeit a bit nervously.
EXT. ALLEYWAY - LONG SHOT - NIGHT
Three kitchen workers spill out the back door of the restaurant. One of them, Sigurd, walks towards us, the other two away. They turn and one calls.
KITCHEN WORKER
(good-naturedly)
And I wish you an aesthetically pleasing night.
They all laugh and wave, then go their separate ways.
EXT. LEIDSEPLEIN - MEDIUM SHOT - NIGHT
The fortune-teller, facing us three-quarters on, is jumping up and down and blowing on her hands in an effort to warm herself. While she is doing this, we see, OVER HER SHOULDER, Sigurd emerging from the alleyway. He takes in the scene, stops, then retraces his footsteps.
INT. RESTAURANT KITCHEN - NIGHT
Sigurd is pouring black coffee into a thermos flask. Behind him a cleaner is mopping the floor. Sigurd starts screwing the lid on the flask, thinks of something, unscrews the lid, reaches for the cooking brandy and pours generously into the flask.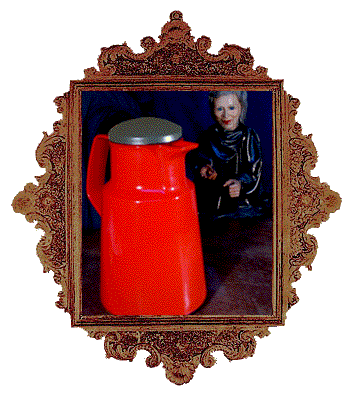 EXT. LEIDSEPLEIN - NIGHT
The fortune-teller is sitting at her small table now, alone but not unhappy. She turns her head at the sound of approaching FOOTSTEPS.
OVER-THE-SHOULDER SHOT OF SIGURD ARRIVING
SIGURD
(a little awkwardly)
I brought you something to warm yourself. Ehmm. I work at a restaurant around the corner. I was on my way home - home? I saw you. I mean, blowing on your hands. Oh god, this is looking all wrong, isn't it. (Hurriedly plonking the flask down.) I'll just leave it here and be off. (He starts moving.)
EXT. LEIDSEPLEIN - CLOSE-UP OF FORTUNE-TELLER - NIGHT
She shakes back the hood of her cape and we see for the first time just how beautiful - exotically beautiful - this woman in her early thirties is. It is difficult to pin her origins. She has something of the gypsy, with Persian blood, and something of the European aristocrat. And her eyes... her eyes can see right back to the beginning of time. Large gold earrings catch the light.
HER POINT OF VIEW OF SIGURD
He has stopped dead in his tracks, his jaw drops.
OVER-THE-SHOULDER SHOT OF FORTUNE-TELLER
She smiles a big, generous smile.
And leave me to drink alone?
SIGURD
(Completely off his stroke.)
There's only one mug- cup- It's the cap. I mean, the cap is the mug. But there's only one-
And you have a fetish about not sharing mugs?
Then please- (She motions to the second stool.) Be my guest, and I'll be (She raises the flask.) -your guest. (Again she flashes that devastating smile.) My name is YATRI. And yours?
Sigurd.
He holds out his hand. She receives it in hers, taking the time to look well at it.
Beautiful hands. You should let me do a reading some time.
I'm not earning much at the moment-

And I'm not cheap. It would cost you, let's see... One flask of coffee. I take it this is coffee?

Laced with cooking brandy. That's all I could lay my hands on. The better stuff was locked away already.

Wow! Then you get the de luxe version-

Well, look- Actually I don't believe in that sort of thing- (Hurriedly.) I mean I don't believe in it for me. Oh damn, now I'm goofing all over the place. I'm sorry.

No offence taken. Honestly. These- oh, shall I say esoteric things - take a little getting used to.
She pours from the flask, savours the smell, drinks, then hands the mug to him.
There's no hocus-pocus, like people think. Not with the genuine article, anyway.

Yours is the genuine article, I take it.

I never pretend to see things, feel things, that I don't. It's a matter of opening yourself, being receptive to the other person's vibrations. And then combining intuition with common sense. (Lightly.) But I'm still learning! That's why I'm doing my apprenticeship in foreign places.

SIGURD

Where are you from?

YATRI

Where am I from? Where am I from? Oh my goodness me! Can't I just be an earthling?

Most recently, Heidelberg. If I can call any place home, now, then it's Heidelberg.

I've only seen pictures. Medieval castle on the hill, old university. Beautiful, is it?

Beautiful. I'll be going back for Christmas and New Year.

SIGURD
(With a note of scepticism.)

So fortune-telling is something you can learn?

It's more a question of honing your skills, than learning new ones. The same as with music, painting, anything in fact. You're born with a feeling for it and then you practise, practise, practise.
He hands her the mug. She sips and hands it back.
EXT. SMALL STREET NEXT TO CANAL - LONG SHOT - NIGHT
Sigurd is walking Yatri home. She carries the thermos flask, he a large hold-all with her collapsible table and stools. They are talking easily, sauntering, and come to a halt close to us. In the background we see a picturesque, four-storeyed, gabled house - a typical Amsterdam "grachtenhuis".
Here we are. This is where I live.

Oh I only have one room. The house is divided into several apartments.

Well, I guess I'll be on my way-

You're- You're welcome- (She bursts into laughter.) I was going to say, you're welcome to come up for coffee, but we've had that.
She notices that Sigurd is looking agitated. He puts down the hold-all.
Is there something wrong?

Something? No, not something. Everything!

I'm sorry, I've said something-

No no! I'm- I'm- I'm just going through a very bad patch and I'm not ready for- Ready for- (He sighs deeply.) It would not be fair to inflict myself on you now. Another time. Another time. Thank you. Thank you.
Old ghosts have been awakened and he teeters on the edge of schizophrenia. He walks away, muttering. Yatri is left nonplussed.
CLOSE-UP OF YATRI
Suddenly remembering the thermos flask in her hands, she takes one step forward, holding it out to him, but she does not call after him. Deep in thought, she bends to pick up her hold-all and turns to enter the house.
FADE OUT
EXT. ALLEYWAY BEHIND RESTAURANT - LONG SHOT - NIGHT
Sigurd spills through the door, as usual after a day's work, and starts walking towards us, as usual. He stops, hesitant, turns around, and walks away into the distance.
EXT. LEIDSEPLEIN - NIGHT
Yatri is reading someone's palm. The thermos flask is clearly seen standing on one side of her small table.
CROSS DISSOLVE
Other people are having their fortunes told.
CROSS DISSOLVE
Still other people are having their fortunes told.
FADE OUT
EXT. SAME SMALL STREET NEXT TO CANAL - LONG SHOT - DAY
A fairyland scene: all is covered in a thick layer of snow. From far away a bent-over figure approaches, hands deep in coat pockets. It is Sigurd. He peers up at the houses as he comes nearer. Close-up now, he wavers long before turning to walk up to the front door of Yatri's house. He reaches for the bell, withdraws his hand, then reaches forward again to punch it.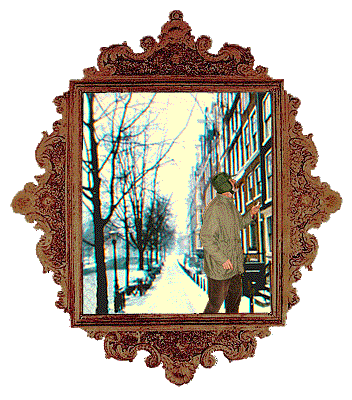 OVER-THE-SHOULDER SHOT OF FRONT DOOR
Vapour rises as Sigurd exhales into the cold air. The door opens and a FLIGHTY YOUNG WOMAN appears.
Does a- Yatri. I've come to see Yatri.
YOUNG WOMAN
(Continuing.)
She's up in the clouds! Seventh Heaven, I shouldn't wonder! (Giggles.) That is to say, top floor. Attic, actually.
INT. SMALL LANDING AT TOP OF STAIRS - DAY
Sigurd emerges from the stairwell and we hear MIDDLE EASTERN MUSIC. He takes a deep breath, then knocks strongly on the door.
OVER-THE-SHOULDER SHOT OF DOOR
The door opens, the BLAST OF MUSIC hits us, and there is Yatri in Sufi clothes - wide crimson pantaloons, over which is a flowing gold dress - and gold earrings. She is panting.
YATRI
(Her mind clearly still on other things.)
Come in! I can't stop! I'm in the middle of Nataraz. Join me. Shoes off first.
He kicks them off. She takes him by the hand and pulls him into her world.
INT. ATTIC APARTMENT
It truly is another world. The room is long, with high, peaked roof, very old wooden beams, wooden floorboards. We see no windows, because all curtains are drawn. Eastern silks, flowing and billowing, are everywhere. The only light comes from a hundred candles, or thereabouts. In a corner, on the floor, is a large foam rubber mattress covered with more oriental cloth and a cascade of pillows. The music is whirling. Yatri dances around Sigurd, making the removal of his coat and scarf an integral part of her dance. She does not have to tell him what to do; her abandoned, free dance simply infects him. He starts slowly, awkwardly, but in the atmosphere that has been created, by Yatri, the space, and the hypnotic music, he cannot be left untouched. Yet it is Yatri who holds us spellbound, her long, nimble arms weaving patterns in the air, her skirts flairing, at times she rises like a spinning, hopping top to reappear in another part of the room. The music reaches a crescendo, then dies. Yatri drops to the floor and lies stretched out on her back. Sigurd does the same.
FADE OUT
ANOTHER ANGLE
They lie, eyes closed, in complete silence, then the tailpiece of the meditation MUSIC starts playing gently. Their eyes open, Sigurd blinks.
Am I on the other side of the brick wall?

No hocus-pocus, you see? But magic nevertheless. Real magic.
She glides across to a small, low table where a glass teapot with herb tea is standing over a tea candle. She pours into two bone china bowls, hands one to Sigurd. They sit cross-legged on the wooden boards, sipping silently.
He holds out his hand, palm up, the bowl cupped in it. Yatri takes it from him, does a double-take, puts the bowl down on the floor and takes his hand in hers.
How extraordinary! Can I see your other hand? (He holds it out.) Two of them! You are indeed blessed.

Blessed? (Joking.) Well, I guess I am. There are people who don't have two healthy, strong, well-functioning hands-

No. I mean two healthy, strong, well-functioning Simian hands.

Simian? That means it's got something to do with apes, then?

Yes indeed. Apes have this same characteristic.

Great! (Pause.) What characteristic?

Most people have two horizontal lines in the middle of their palms. The head and the heart lines. Here, give me your hand again.

CLOSE-UP OF HANDS
Yatri's finger traces across his palm.
Do you see? Only one line. Now look at mine.
She shows him her palm, and traces the two lines with the finger of the other hand, then turns this one palm up too. Sigurd brings his other hand into frame as well, and we see the single line clearly.
TWO-SHOT
Well, in common parlance, it means you're either a genius or an idiot.

SIGURD
(Genuinely unsure.)

And how- how do you know which?

YATRI
(Giving him a reproachful look.)

Now now, we're not fishing, are we? Anyway, that's in common parlance - don't-we-just-love-duality-Aristotle-damn-your-eyes. Things are never as black-and-white as that.

The one day I feel I can move the earth, the next I can hardly move my little finger. Maybe I'm both.

Oh, by the way, Simian hands are fairly common among people with Down's Syndrome. (Pause. She looks at him enquiringly.) I haven't offended you, have I?

SIGURD
(Taking his time.)

No. No you haven't. (Pause.) I often think they're the ones who've got it right.

Lest ye be as little children, ye shall not enter the Kingdom of Heaven?
She picks up his hands in hers, holds them in her lap.
YATRI
(Looking deep into his eyes.)
These are the most wonderfully creative hands I've ever had the privilege of- of reading. You must do something truly wonderful with them.
They hold one another's gaze for an intense moment or two, then his eyes move slowly down her face, her neck....
SIGURD'S POINT-OF-VIEW
We see her face, her neck, the delicate collar bones.... Then we see Sigurd's hands enter frame from below. Those most wonderfully creative hands are about to do something truly wonderful. They cup her breasts.
FADE OUT
EXT. AMSTERDAM CENTRAL STATION - MID-WINTER - LONG SHOT - DAY
Sigurd and Yatri hurry along the platform, find the right compartment, bundle the luggage on board, and embrace like lovers on the platform.
SIGURD
(In emotional pain.)
One week. Only one week! And now you're going, gone. Back to the husband you're not in love with.

No, not in love, but I told you, I do love him. He needs me, somewhere in his life, and- and I need him, as a friend.

You - empower me! What now?
My dearest! I kick-started your motor, that is all. But you have immense power of your own. However low you once were, that's how high you will soar now. When our paths cross again I know, with absolute certainty, you will have found your direction. Your voice.
We hear the ANNOUNCEMENT that the international train is about to depart. Yatri strokes Sigurd's cheek with the utmost tenderness.
You will see. (Lightly.) I am not a fortune-teller for nothing. And here- (She pulls a gift-wrapped parcel from her bag.) -something to cast light on your path.
Oh, oh... And I have nothing for you.
She kisses him one last time.
Oh yes! I'll show you.
She boards the train.
ANOTHER ANGLE
Yatri presses against the window from the inside of the compartment. We hear the conductor's WHISTLE and the train starts moving. Yatri holds the thermos flask up for Sigurd to see. She smiles.
OVER-THE-SHOULDER SHOT
Sigurd waves, the train gathers speed, and is gone. He stands there like a statue while the platform empties, then, coming out of his trance, he remembers the parcel in his hands. He opens it, to reveal material. As he unfolds this, a CD box falls to the ground. He leaves this for the moment, mesmerised as he is by what falls into view: a pair of royal red pantaloon trousers and an Eastern-style embroidered waistcoat, inlaid with shiny little metal discs. When he has taken this in, he bends to retrieve the CD box. He opens it.
CLOSE-UP
We see the title of the CD. It reads: "Nataraz Meditation."
FADE OUT
INT. RESTAURANT KITCHEN - LONG SHOT - DAY
Sigurd is adding the final touches to a row of salad bowls. The maître d'hotel enters frame, looks at the bowls, and rolls his eyes to heaven.
INT. RESTAURANT KITCHEN - CLOSE-UP - NIGHT
All alone Sigurd sits at a kitchen table. From time to time he consults a cookery book which is open next to him. In his hands he has a sharp little knife and a large radish, which he cuts into with surgical precision, flicking away the unwanted pieces.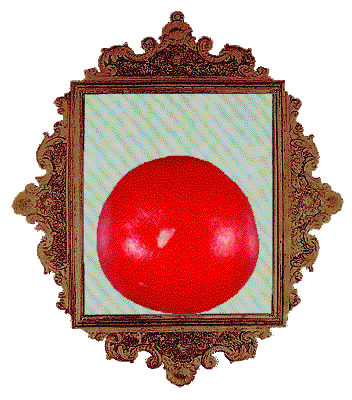 ANOTHER ANGLE
Extreme close-up of a radish being transformed into a rose.
CROSS DISSOLVE
Extreme CLOSE-UP of turnip being carved.
CROSS DISSOLVE
Extreme CLOSE-UP of red pepper being carved.
FADE OUT
INT. RESTAURANT KITCHEN - MEDIUM SHOT - DAY
Sigurd adds the final touches to a row of salad bowls. In the background the other kitchen hands are at their work. The maitre d'hotel enters frame. He glares at Sigurd, then bends to scoop up two of the bowls. He freezes.
POINT OF VIEW OF MAÎTRE d'HÔTEL
The camera PANS slowly along the row of salad bowls. They are so decorative, they look more like carousels at a fair. We see exquisite tableaux: a turnip canoe with an asparagus boatman, holding an uncooked spaghetti paddle, in a lake of avocado dip; a Catherine wheel of vegetable "flowers", and so on and so on.
ANOTHER ANGLE - MEDIUM SHOT
The salad bowls in foreground, with kitchen hands entering frame one by one to see for themselves what it is that has turned the maitre d'hotel to stone.
ANOTHER ANGLE
With reverence the maitre d'hotel levitates two bowls above his hands.
If anyone dares to eat this- (His gaze dramatically indicates the swing doors.) - with anything other than their eyes, I'll roast them!
FADE OUT
INT. BOARDING HOUSE ROOM - LONG SHOT - NIGHT
A sparsely furnished room at the end of which there is a table with a hanging lamp dangling over it. Sigurd sits there whittling at a piece of wood. To ease the cramp in his shoulders, he stretches his arms upwards and accidentally bumps against the shade. The lamp swings back and forth, casting its light in a moving arc. We hear the TICKING OF A CLOCK, abnormally loud in the late night silence, in time to the swing of the lamp.
CLOSE-UP
A carving knife shapes a piece of wood that is beginning to resemble a small boot. As the clock TICKS, the LIGHT swings. One moment the wood is bathed in light, the next it is in deep shadow.
MONTAGE OF CARVINGS
Now we see a boot, then a little hand, then a small foot....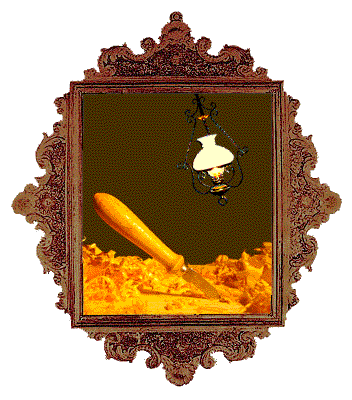 FADE OUT
INT. DESERTED RESTAURANT - TWO-SHOT - DAY
Sigurd sits at a table in the restaurant where he works, with a sketch in front of him, explaining something to JOHANNA, a middle-aged waitress.
I'd do it myself if I could, but I can barely manage to sew on a button. And I'll pay you of course.
JOHANNA's POINT OF VIEW
We see a CLOSE-UP of the crude sketch of a puppet with top hat and cape with measurements included.
I can start by looking for a pattern, and buying the material, but I'll really need a completed doll-

Puppet. Marionette actually. Hanging from strings, and all that.

Well I'll need a completed marionette for the fittings.

Okay. I'll get it done. And a thousand thanks.
Waitress smiles and nods and folds up sketch.
FADE OUT
INT. BOARDING HOUSE ROOM - MEDIUM SHOT - NIGHT
The MARIONETTE lies on the table, dressed in his new clothes: red trousers, white shirt, lilac scarf, red cape, top hat, and red shoelaces in his boots. Sigurd is adding the strings.
INT. RESTAURANT KITCHEN - LONG SHOT - DAY
The kitchen hands and waitresses, including Johanna, are sitting or standing at one end of the kitchen and watching, entranced, while Sigurd manipulates the controls and the little marionette dances. Sigurd gets him to take a bow, then stops.
We see the marionette's mouth move, and we hear Sigurd talking at a higher pitch through persed lips, trying to be the ventriloquist.
Thank you, ladeees an' gennelmen. And if you, young lady, would care to meet me in my dressing room after the show-
Now we are treated to the piece de résistance.
CLOSE-UP OF MARIONETTE
Lights in his eyes flash at the pull of a string, giving the impression that he is winking.
MEDIUM SHOT
ANGELIQUE, a young waitress, SHRIEKS with delight, then crosses her legs to prevent wetting herself.
He's beautiful. I want to just hug him.
ANOTHER ANGLE
Ah, clothes maketh the man. (He gestures towards Johanna.)
I had to keep looking in the mirror to see how a face is constructed. How it all fits together. This is the first time I've carved anything.
Apart from radishes and turnips!
They all laugh.
I've got it! If you look alike, why don't you dress alike? Mr. WOODCARVER, you need a cape, just like your alter ego.
Would you- Would you mind-
The picture simply would not be complete without you in a cape too.
They're expensive, aren't they?
They have them second-hand at the flea market. On Waterlooplein.
What are you going to call him?
Silence. A pregnant silence.
CLOSE-UP OF SIGURD
His eyes unfocussed, he looks into the distant past.
My mother told me I was named after King Sigurd, a courageous, compassionate and much-loved monarch who reigned over his people in Scandinavia around the year 500 A.D. Whether it's truth or myth, I do not know. Maybe a bit of both. The Germans have a similar story called the Nibelungenlied, in which Sigurd becomes Ziegfried. Thence Wagner's Ring Cycle operas. "Your name means sunshine after rain, calm after the storm," she said. This marionette represents my higher self, the royalty in me, so he shall be king. Henceforth he will be known as KING SIGURD.
TRUMPET FANFARE sounds. Returning to this world, Sigurd looks about him, a little embarrassed. His audience is silent.
WOODCARVER
(Continuing, a little shaky, but bravely.)
Where he dares to go, I will follow.
LONG SHOT
At that moment the swing doors from the restaurant fly open and the maitre d'hotel was in their midst. He only misses one beat as he takes in the spectacle of the marionette.
We won't put him IN the salad, hmmm? On the sideboard will do nicely.
Everyone gapes at him. Angelique gets the giggles.
FADE OUT
EXT. GNARLED OLD PLANE TREE NEAR LEIDSEPLEIN - MEDIUM SHOT - DAY
Trembling with fear, the Woodcarver presses his palms against the tree like a pilgrim touching a shrine. His head is bowed. Beside him on the ground is an old rucksack. The woodcarver is dressed in red trousers, white shirt, lilac scarf, and his boots have red shoelaces.
Give me strength! Oh god, give me strength.
Slowly he raises his head to the heavens - and suddenly he is transfixed.
HIS POINT OF VIEW
We see the sculpture of a little man with a saw standing on the branch above the Woodcarver's head.
EXT. GNARLED OLD PLANE TREE NEAR LEIDSEPLEIN - LONG SHOT - DAY
While the Woodcarver stares up at the little man, a dishevelled HERMIT saunters up to him.
CLOSE-UP OF HERMIT
Notice something? He's on the wrong end of that branch, hee hee hee. He's heading for a fall!
CLOSE-UP OF WOODCARVER
His eyelids flutter, we hear an INTAKE OF BREATH. Does the hermit's observation foretell doom and disaster?
EXT. LEIDSEPLEIN - LONG SHOT - DAY
The Woodcarver walks to centre stage where some ACROBATS are performing, pauses, then moves off to a quieter spot at the edge of the square. He swings the rucksack off his back, unpacks a small cassette deck, dons a large red cape and a threadbare top hat, places an old beret on the ground before him, then gently lifts King Sigurd. He presses a button on the cassette deck. We hear FAINT MUSIC, the song "I Love You". He turns this up, then some more, but it is almost drowned out by the sounds on the square. Sweating with fear, he starts working the controls, concentrating intensely on what he's doing and making little contact with his audience - potential audience, that is to say, for with this degree of introversion he is hardly likely to draw the crowds. It is a tortuous debut! He has no stage presence and the crowds, scarcely able to distinguish him as a performer, bump into him and he has to whip King Sigurd out of harm's way from time to time. After a while, an OLDER MAN stops before him and watches with some interest. The Woodcarver notices him and is so grateful to have an audience - any audience! - and does his best to play for the man. When the tape comes to its end and stops, the man speaks.
My dear fellow, you must get out of Amsterdam. I used to do this, play on the street, and I can tell you from experience you will do better elsewhere.
Anywhere, but not Amsterdam.
I don't get it. Everyone comes to Amsterdam, surely-
That's exactly it! Nothing is new any more. They've seen it all. If you rode through here naked on an elephant with your hair on fire, nobody would even look up. Go play the small towns. Amsterdam is for the bold, the brassy, the brave. Besides, I'd guage you haven't logged too many flying hours. I know I'm being cruel, but you'll thank me for it. Later.
He takes out his wallet, peels a note from it, and places it in the beret.
He turns to go, then turns back.
Nice puppet, by the way. Best of luck.
He departs.
FADE OUT
INT. BOARDING HOUSE ROOM - MEDIUM SHOT - NIGHT
The Woodcarver sits at his table, stirring a cup of coffee endlessly, and looks depressed. King Sigurd stands on the table, suspended from a cord attached to the ceiling. The Woodcarver talks to himself.
We didn't exactly take the world by storm, did we? (Looks up at King Sigurd.) Did we?
He looks again into the coffee cup, as if the answer to his problems might lie there. It doesn't. He leans over and works the marionette's mouth string.
CLOSE-UP OF KING SIGURD
WOODCARVER (VOICE OVER)
(In King Sigurd's voice.)
No sirree, you simply weren't meant to be king of the road, like that juggler, and all those others performing out there.
MEDIUM SHOT
The Woodcarver settles back in his chair, again staring into his coffee cup. Just then DREAM-LIKE, WATERY MUSIC is heard, signalling a change in dimension, and the most extraordinary thing happens: we hear King Sigurd's voice, while it is perfectly clear the Woodcarver is not doing any ventriloquism. Not only are his lips not moving - not even the slightest bit - but he turns to look in the direction of the marionette, himself as incredulous as we are.
Now I won't have it, do you hear? I will not have you putting words into my mouth.
CLOSE-UP OF KING SIGURD
His mouth moves by itself.
KING SIGURD
(Continuing.)
If you thought you could be an overnight sensation, you are suffering from delusions of grandeur. Practise, my lad, practise.
CLOSE-UP OF WOODCARVER
Still viewing this miracle with some consternation, he slowly settles down to the idea that this might be - well, normal, of a kind. NOTE: WHENEVER PUPPETS ARE IN CONVERSATION WITH THE WOODCARVER, OR WITH ONE ANOTHER, THEIR MOUTHS AND BODIES MOVE BY THEMSELVES, AND OCCASIONALLY WE SEE EXPRESSIONS ON THEIR FACES (the work of animators) BUT THE PUPPETS IN THIS STORY REMAIN CARVED WOODEN PUPPETS AND NEVER TURN INTO FULL ANIMATIONS, OR CARTOON CHARACTERS. THE USE OF LIMITED ANIMATION WILL ALLOW US TO WONDER IF THIS "COMING TO LIFE" OF THE PUPPETS IS NOT PERHAPS A PROJECTION OF THE WOODCARVER'S OWN INNER VOICES, RATHER THAN THEIR BECOMING FULLY INDEPENDENT LITTLE BEINGS. IN PUBLIC, THOUGH, THE WOODCARVER STILL HAS TO MANIPULATE THE CONTROLS.
Yes, yes. We shall go "On on on on on, once more unto the breach-"
We shall go more than once. We shall go as often as is needed, and THEN once more. Now here's my plan: cut down on your hours at the restaurant, then two or three times a week you and I board a train for some outpost-
WOODCARVER
(Entering into the spirit of things.)
You're right! That's what- (Thoughtful.) -Yatri said. She said it was easier to learn new things in foreign places.
No one you know to laugh at you when you make an arse of yourself, hey? So, all agreed? Say "Aye".
WOODCARVER and KING SIGURD
The ayes have it. Oh, and by the way, don't expect me to talk to you in public. It is for your own safety.
There are people out there who do not believe in even one impossible thing before breakfast, let alone six. And they are ready to crucify those who do.
FADE OUT
MONTAGE OF SHOTS OF WOODCARVER AND KING SIGURD PLAYING ON THE STREET IN VARIOUS SMALL TOWNS IN THE NETHERLANDS, INTERCUT WITH SHOTS OF TRAIN TRAVEL, INTERCUT WITH SHOTS OF WOODCARVER WORKING IN RESTAURANT KITCHEN, INTERCUT WITH SHOTS OF HIM CARVING IN HIS ROOM. TOWARDS THE END OF THE MONTAGE, WE SEE THEM PLAYING ON THE STREET WITH THE NEWLY CARVED MINIATURE STREET ORGAN, WHICH NOW CAMOUFLAGES THE CASSETTE DECK.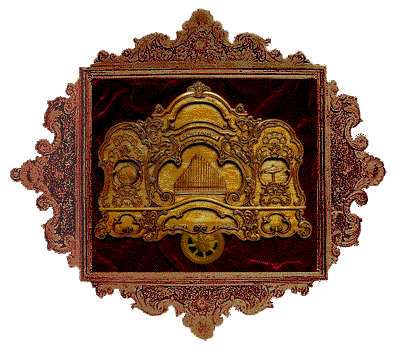 INT. BOARDING HOUSE ROOM - LONG SHOT - DAY
The Woodcarver stands at the window, hands deep in his trouser pockets, staring gloomily at the HEAVY RAINFALL.
The gods have got it in for us. Oh yes, they certainly have. Prey to the vicissitudes of the weather. And to think I chose to earn a living on the street. Well, we're not going to be earning much in conditions like these.
This too shall pass. Besides, this is good book, bed and wench weather.
The Woodcarver turns around and glares at the king.
I don't have a wench.
CLOSE-UP OF KING
Oh aren't we just the victim today! Well, don't just stand there wallowing. Use that energy.
There's more horsepower in sadness than in gladness - IF you know how to harness it.
Would you mind explaining yourself?
Carve your gloom and misery. Let's see the victim!
The Woodcarver and King Sigurd SING "Base Metal into Gold", while the Woodcarver settles down to carve.
EXT. MEDIEVAL DUTCH TOWN - MEDIUM SHOT - DAY
In the foreground the new puppet, VICTIMUS ULTIMUS, sits in the stocks. We see his wooden leg, bandaged hand, and hang-dog expression. We also catch sight of the Woodcarver and King Sigurd going through their paces to the accompaniment of music emanating from the little organ. We hear Victimus's SONG: "Don't Take His Problems from Him". The Woodcarver hangs King Sigurd on a collapsible stand, then bends over and manipulates Victimus Ultimus. He speaks for the new puppet, and we notice he is improving as a ventriloquist.
Oh woe is me! Nobody loves Victimus Ultimus. The end is nigh. Doom and desolation...
The old beret has been replaced by an ornate copper and brass "centabakje" for receiving contributions from the public. Victimus's wails cause amusement - we hear APPRECIATIVE LAUGHTER - and a flow of coins.
VICTIMUS ULTIMUS
That's not enough! What's that going to buy? Barley broth, nothing more. Oh woe is me....
I'm looking for- something with the horsepower of sadness.
And I thought we were going to travel, to see the world, but oh no, Mr. Woodcarver here first has to finish the likeness of his lost love. Woe is me!
Why is everyone going faster than us, Yin-Yin?

I don't believe this heap of scrap metal can go any faster-
Don't say that! Do you think the Czarina is insensitive to that sort of remark?

Achtung! Achtung! (He points ahead.) Rechts, rechts! Und dann gerade aus.
Hameln? Hamelin? Hameln. Piep Piper?
I know how you feel. I'm a woodcarver.
My god you're good. I'm overwhelmed. And fast! How much do I owe you?
Did we- Did we- Did we have a good time then?
Oh woe is me- she! Woe all of us...
What the hell do you expect from me? To live like a monk!
"Keep your head when all about you are losing theirs...."
...Better to travel hopefully than to arrive. But that still doesn't mean you can do without a goal... if only to get you out there travelling...
Good point, my dear Gall. I'll have a word with the Woodcarver.
There was a man, he came into town. There was a man, he came into town.

They asked him: "Why have you come to town?"

They asked him:
To sell mirrors to the blind.
To sell mirrors to the blind. And when they look in that mirror, the blind will learn to see, with a crown on your head you are bound to know, the royalty in thee....
...Through the brick wall... (Singing softly.) I'm in heaven, heaven, heaven. (Thoughtfully.) If only it could be this still inside of me.
In Hamlet's Castle we spotted a black, we called out loud: "Who is that?" Our jester he cried...
Hello fellow. If I'm not much mistaken, that was Othello.
Oh take heed if you are a heinous hyena, 'cause then you're up against the might of Maqina. For those who are my brothers, my message is love, for those who are not there's a fist in a glove.
We'll work our way south, slowly, so that by the time winter comes we'll be in warmer latitudes. What do you say, Maqina? A little closer to Africa, hey?

MAQINA
(Finishing his song.)

...My name means mission and I aim to advance, the cause of the African Renaissance.
I sought it here, I sought it there; I sought in heaven and in hell....
...which the Minister of Licences and Licensing insists is the very last warning he is giving offenders before incarcerating them. And now, the weather forecast: every silver lining will have a dark cloud attached to it, so weh!-
Violetta? A pretty name. (Pause.) Would you, Violetta, take King Sigurd's Magic Mirror Marionette Theatre as your lawful, bedded passengers... till death do you part?
I'm sorry, Maqina, but I didn't plan the Czarina's demise.
We'll mount this on top of the regular battery, in series, and that way she'll charge up while you're travelling. You'll get quite a few hours playing time on your sound system.
But you said you weren't ready yet to play Amsterdam.
Oh my god. Wave, Your Majesty, wave like your life depends on it.
Give ush a hand, mate. (Pause.) I shed give ush a hand, mate!
Bloody poofter! Men don't play with dolls! Not real men.
Hey! Look who's risen from the dead. Haven't seen you for many a year.

Want to take over my old rig for a song? No strings attached! Ha ha ha.
He used to laugh at that. Wonder what's eating him?
You guys, how do I thank you?

By sending us postcards of all the nice places-

He means all the warm places.

And the new clothes, Johanna. All these beautiful new clothes for my ever-growing family.
Ja, obersturmfuhrer, nein obersturmfuhrer, three bags full obersturmfuhrer. Bastards!
By the power invested in me, I order you to take your, huh, things, und get raus!
Am I really a threat to peace and order-
Oooh! All these rudies, yuk!
But three policemen? That's heavier even than in Florence where they had me investigated for possible Mafia connections. I've heard of the Mafia being in the laundry business, but puppetry?
Well of course we kept playing, but in quiet spots, and always looking over your shoulder.
...he was doing his number when the fuzz arrives. Now the average dude would react, well, in the average way. But not our hero. True, he started running from the cops, b u t - i n - s l o w - m o t i o n. It confused the hell out of them.
I care not where we go, as long as it is away from those fiendish French carnivores. Mon dieu! Mon dieu!
Be good. I'm just going to recce the joint.
Entschuldigen sie mir, bitte. That last bit was not what it should have been, but my fingers were slipping. There is ice on the keys.
I'm a street artiste too. Marionettes. When you get your butt kicked time and time again, you wonder why you ever left the comfortable numbness of an office job. Then I see something like this- (He gestures the piano, the pianist, the street.) -and I know, this is what a better world would look like. I salute you.
Willkommen. So this- these are the hands that should do wonderfully creative things, hmmm?
Ach, do not worry. We academics are not all... how should I say, fossilised. The sabre fights over a man's honour belong to the past. I am afraid I must disappoint you; Yatri is not here now. Let me take your coat. A cognac? Or would you prefer coffee?
So Yatri read you well. That restores some confidence. I have doubted. Yes. Doubted.
Your manuscript! Yatri, for god's sake, what are you doing?
Yatri! It's me. Remember?
So it is true. I was not at all sure, back there, where I was.
I'm not saying sacrifice your integrity. No. But a little compromise - vot ish a leetle compromise, hey?
I know... Publishers, publishers.... but what good is it if you are uttering the greatest truths ever, but no one can hear you? Let the little buggers water you down a bit. Sometimes, to win you have to loose a little first.
And write to me. In Amsterdam, care of Johanna. I'll be back there in the summer.
But why Gibraltar of all places! Someone of my talents belongs in the cosmopolitan heart of this world. I protest!
Have all the necessary forms been filled in - in quintiplicate!
Wow! (Collecting his thoughts.) Sorry to do this to you, but this is a camper, isn't it?
Do you have a chemical toilet? It's my dad, you see. He's old and-
This is really very decent of you-

Oh come on. It's the least I can do.

Those are great puppets in there. You make them yourself?

Yes. Carved them all from wood. They're more than puppets to me: they're family.

Were you coming to perform in Gibraltar?

That's right. Assuming we ever get in there. What's the hold-up?

PACO
(Genuinely surprised.)

Hold-up? Oh! This? (Gestures to queue.) This is normal. You don't want to be here when they've really got it in for us. Then you can be in this queue for eight hours. But they save that mostly for mid-summer. Then the old folks, like my dad, start fainting from heat exhaustion.

But why? That's barbaric.

The Spanish want The Rock back, and they've wanted it for three centuries now.

Why don't the British give it back then?

Because it's not theirs to give back. It's ours. It belongs to us now.
We're moving again. I'll wait for you on the other side. I owe you a drink.
Anything of value to declare?

CUSTOMS MAN
(Smiling deceitfully.)

Except the puppets, hey? They must be of very much value to you.

WOODCARVER
(Unsuspecting.)

Oh yes! Oh yes! They're my treasure, my whole life now.

You have papers for them?

You bring things of value into Spain from Holland, now you take things of value out of Spain. So where are the papers?

WOODCARVER
(Beginning to panic.)

But I didn't buy them, you see? I made them myself, carved them.
W h a t - i s - g o i n g - t o - h a p p e n?
I would wish them in hell, but look at their faces... they are there already.
But what do they achieve by punishing visitors to Gibraltar? After all, what did the tourists do to them?
With 140 caves, and tunnels criss-crossing The Rock, man, you can hide an army in here.
But not now. First we have to find a way of helping our friend here. He must be re-united with his... family.
What I saw in your van there, was a real treasure. Now going the official route would take six months, and there's no guarantee it will work. Besides, in the meantime those misguided souls down there won't be taking the greatest care of your puppets.
My friend, we are going to do everything we can to help you.

I can't expect you to put yourselves out-

You do not understand. Getting one over on those- those people at the border will be all wool and a yard wide.

Which is old English for... great.
We must wait for the solution to drop out of the sky.
The way it works for me is this: I feed all the information I have into my computer - my brain - and then I wait. The less I do then, the quicker the solution comes. And it really does just fall out of the sky.

We Catholics - and we're mostly Catholics on Gibraltar - call that praying, and having your prayers answered.

In that case, let's go and do nothing! Or more accurately, you do nothing. I have to go out to Europa Point with the trailer to service the boys. It's a regular club meeting today. If you'd care to come along...
Always do that in Gibraltar. If you want any mirrors left.

Our streets are so narrow, that's the only way two cars can pass.
Only just in time. Now, give me a hand hooking up the trailer.
My dad calls them toys, but I tell you, I see something else. This is man's ingenuity at its best. And do you know what kind of power there is in that beast?

I'd tell you a story if I didn't think you'd run off and spill it to the Spanish customs.

Well Jim here uses that helicopter of his to ferry cigarettes from Gibraltar to Spain.

Shhhht! Jim's in import/export. Works night shifts. He says doing it this way certainly beats pounding your kidneys to pulp in a high-powered speedboat like the other guys in his line of business.

But can he really make money that way? I mean, what sort of payload can that helicopter carry?

Twenty kilos. When you consider the weight of cigarettes, it's almost as good as printing your own money. But she's a baby. Take a look at this-
Thirty kilos. That's what she can lift. Now that's impressive-
Hello? You with us? I said that's impressive, hey?
Paco, I do believe that the answer - part of the answer - to my problem has just fallen out of the sky.
The 'plane in Spain falls mainly like the rain...

By Jove! I really think he's got it.

The 'plane in Spain falls mainly like the rain...
Eight kilos! That's nothing.

Not even that, I'm sure. But even if I'm hopelessly wrong, I swear it's not more than ten, twelve. And that means we're well within the limits.

And the net? It's got to be strong.

Yeh. Just look at us. Laughing.

Paco, be reasonable. How else am I, or anyone else, going to get into that compound?

But are you even going to reach it?

The Rock's 426 metres high-

That's O'Hara's Battery. That's not where you'll be launching from.

Okay, okay. Say 400 metres. Now from the North Face to the customs post is 1800 metres, call it a nice round 1729-

PACO
Round? You call that round?

WOODCARVER
Well, let's just call it a lucky number.
That is as the crow flies. But you said yourself, wind speed, wind direction, even the goddamn temperature-

To make it, as the crow flies, I need a parachute with a descent ratio of one in four and a half. And I've got one that descends at a rate of one in seven. That leaves a fair margin for error.

And all this at night! Have you ever jumped at night?

Twice. Some time ago. (Becoming optimistic.) But I reckon I'll be able to handle it.

The noise of the helicopter, what you going to do about that?

There's a commercial flight I know of that comes in at four in the morning. It'll be sufficient to drown out the noise we make.
The CAMERA does a round of the room, registering the tensions of each one in turn.
FADE OUT
EXT. UPPER CABLE CAR STATION - LONG SHOT - DAY
Jerry and the Woodcarver emerge from the cable car.
EXT. TOP OF THE ROCK, NEAR THE NORTH FACE - LONG SHOT - DAY
The Woodcarver and Jerry examine the terrain, looking for a good spot for the launch. In the distance we see the customs post.
I'm coming. Just hang in there, my little ones.
INT. PACO's LIVING ROOM - LONG SHOT - DAY
The main canopy of the parachute covers most of the room. At one end sits Paco's mother, at work with her sewing machine. The Woodcarver explains something to Paco and Jerry.
We have to get this parachute to behave like a paraglider, which means it's got to be inflated when I launch myself. That's why your mom is sewing two inverted cups to the end cells. This is where we insert those carbon fibre rods you use for kites. That way we can help the canopy to inflate.
If we've got a breeze on the night.
Air moving across land towards the sea - which it does at night - will rise when it comes to an obstacle, in this case a gigantic lump of rock. There should be a nice little current flowing over the ridge.
EXT. CRICKET FIELD AT EUROPA POINT - LONG SHOT - DAY
The Woodcarver is wearing his parachute harness, with the inflated main canopy streaming behind him. Paco and Jerry hold carbon fibre rods about two meters long, the ends inserted into the cups sewn to the outside of the end cells. The Woodcarver starts to run forward, lumberingly against the drag of the inflated canopy, and Paco and Jerry's rods slide out of the cups. The woodcarver draws up after a few metres and the canopy sags to the ground.
ANOTHER ANGLE
Paco and Jerry walk over to him, where he is unbuckling the harness.
Okay, step two. Practise hooking up the net to the helicopter. And believe me, Jim is the best man for this job.
What he can do with a helicopter, you couldn't do with a bicycle on a chandelier!
As long as he doesn't forget it's my family he'll be lifting.
ANOTHER ANGLE
Jim sidles up to them.
They'll be safe as a crate of contraband.
EXT. CRICKET FIELD - LONG SHOT - DAY
The SONG "The Rock" starts playing, and continues till they pass the North Face of The Rock. Paco's super helicopter hovers several metres above the ground. Beneath it stands the Woodcarver, looking up. A cable with a carabiner attached unwinds from a winch in the helicopter. On the ground lies a net containing the parachute and a bag filled with ballast. When the cable is close to the ground, the Woodcarver hooks the net to the carabiner and steps back.
ANOTHER ANGLE
Jim is in the foreground, the radio controls clearly visible. His concentration is intense as he caresses the joysticks. OVER HIS SHOULDER we see the helicopter taking up the slack in the cable. The ENGINE NOISE increases as the helicopter gradually starts to rise, lifting its payload.
CLOSE-UP OF PACO
He gives the thumbs up with both hands.
CLOSE-UP OF WOODCARVER
He shakes his head in approval and smiles.
EXT. PACO's CAR AND TRAILER ON DEVIL's TOWER ROAD - LONG SHOT - NIGHT
The car draws level with the North Face of The Rock and stops.
PACO's POINT OF VIEW
His gaze moves slowly up the sheer white face.
ANOTHER ANGLE
Through the open driver's window we see a tremor run through Paco's body. He turns to face the Woodcarver.
WOODCARVER's POINT OF VIEW
Paco shakes his head.
We are completely out of our minds. You know that, don't you?
FADE OUT
EXT. GIBRALTAR SIDE OF BORDER POST - LONG SHOT - DAY
The Woodcarver and Paco and his parents stand looking in the direction of the Spanish customs.
THEIR POINT OF VIEW
The latched door to the compound opens and a customs official emerges.
ANOTHER ANGLE
Paco turns round to face his father.
That's the door. Don't stare, don't stare! We don't want to be conspicuous.
And that is where you want me to have my heart attack.
No. Twenty metres this side of that door. And mom, you'll fuss over him something terrible. Remember, your screams have to be audible inside that compound.
Who knows, at this rate I might be having a real heart attack.
FADE OUT
INT. PACO's LIVING ROOM - LONG SHOT - DAY
The Woodcarver is dressed in dark blue denims, a thick, dark jacket, dark socks. He examines the sole of the trainer he is about to put on; we see it is dark too.
Good. I don't want to stand out against the night sky.
On the couch lie his discarded, lighter-coloured clothes. He reaches inside a jacket pocket and pulls out a photograph. Jerry notices this.
Jerry! You mind your own-
It's all right, Mr. Parody. It's no state secret.
Jerry comes round to look at the photograph.
Quickly the others crowd around.
CLOSE-UP OF PHOTOGRAPH
We see the picture of Yatri which the Woodcarver used as a model for the marionette Yin-Yin.
WOODCARVER
(Speaking from another space.)
Someone very special in my life. She pulled me out of the abyss once. It feels good to have her with me on this jump.
RIPPLE DISSOLVE AS HE TALKS
INT. YATRI's DEN IN HEIDELBERG - MEDIUM SHOT - DAY
The room has the same flavour as the attic in Amsterdam once had. She sits typing on a laptop. In front of her, on a low coffee table covered with an oriental rug, stands a crystal ball. She is absorbed in what she is doing.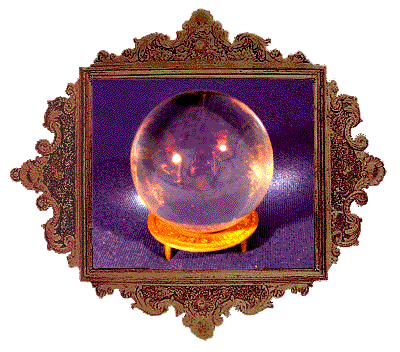 RIPPLE DISSOLVE
INT. PACO's LIVING ROOM - MEDIUM SHOT - DAY
The Woodcarver places the photograph carefully in an inside pocket of his dark jacket.
Right. Shall we go over a couple of things? I'd love you to stay on after the rescue, but I think it would be madness. You've got to get across that border with your camper before they realise the puppets are gone. And not just that. I'd like you to be on the other side of the Pyrannees in record time. Jim will land the puppets here in Gibraltar. With such a fragile cargo he does not want to land them in La Linea. They'll be taken by one of his, ah, business associates, by boat, to a contact on the coast beyond La Linea. From that point on they're officially oranges being exported to northern Europe.
Paco hands the Woodcarver a piece of paper.
You'll go via Zaragoza towards Pau on the French side, and here is the exact spot where you'll meet the orange truck. And there's the time and date too. But we'll all be in touch by phone to sort out any possible hitches, though I don't expect any. Jim is a top... businessman.
Paco looks about the room.
Anyone got any questions? (Pause.) Then we'd better get moving. It's going to be a long night.
FADE OUT
EXT. TOP OF ROCK - LONG SHOT - NIGHT
Paco, Jerry and the Woodcarver stand in a circle. Paco talks into his mobile.
Right. Good. What? (Pause.) It's fine. A light breeze. We'll be launching then. Bye. (Addresses Woodcarver.) The commercial flight's on schedule. Landing in twenty minutes. Ready?
WOODCARVER
(Breathes deeply.)
Ready.
The Woodcarver slings the rig onto his back, the canopy overflowing from the container. As he buckles the harness round his thighs and chest, Paco and Jerry carefully pull the canopy from the container and spread out behind him.
Try not to drag it over the ground. I don't want it tearing.
The brothers now insert their carbon fibre rods into the cups on the outer cells of the canopy. We hear a HEARTBEAT, faint at first but growing in intensity. The last two verses of the SONG "The Rock" fade in, to the same beat as the heart.
EXT. LARGE VAN AT FOOT OF NORTH FACE - MEDIUM SHOT - NIGHT
Jim is peering up from the driver's window.
JIM's POINT OF VIEW
Once again we see that daunting white North Face.
EXT. LARGE VAN - LONG SHOT - NIGHT
The van drives off.
EXT. TOP OF ROCK - LONG SHOT - NIGHT
The canopy is inflating nicely.
CLOSE-UP OF WOODCARVER
His face is drawn, tense. He rolls his eyes.
INT. YATRI's DEN - MEDIUM SHOT - NIGHT
She looks up suddenly from her laptop, a puzzled expression crossing her face. Then she shifts her gaze.
YATRI's POINT OF VIEW
We see the crystal ball.
ANOTHER ANGLE
Yatri shakes her head and returns to her typing.
EXT. TOP OF ROCK - LONG SHOT - NIGHT
Full frontal view of the Woodcarver with the canopy billowing behind him, Paco and Jerry at each corner with their poles, helping the canopy stay aloft.
Ready!
EXTREME CLOSE-UP OF WOODCARVER's FACE
WOODCARVER
(Screaming courage into himself.)
CLOSE-UP OF HIS FEET
They gather speed on the short decline to the cliff edge. Then the toe of one trainer catches on a protruding rock.
INT. YATRI's DEN - MEDIUM SHOT - NIGHT
She jerks up from her laptop, stricken with fear.
ANOTHER ANGLE
The CAMERA does a lightning zoom into the crystal ball, where the picture FADES IN of the Woodcarver, side on, LONG SHOT, stumbling forward and falling over the edge of the cliff, the inflated canopy behind.
ANOTHER ANGLE
From the base of the North Face we look up and see way in the distance the Woodcarver coming into view over the edge.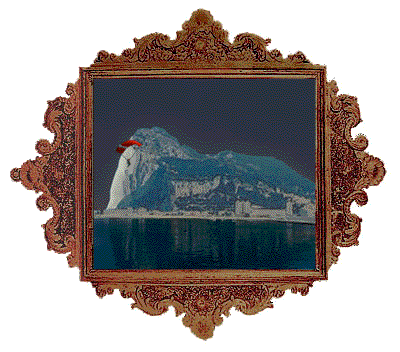 MEDIUM SHOT OF WOODCARVER - FRONT VIEW
His body jerks in the harness and we hear the CRACK as the cells fully inflate to take his weight.
INT. YATRI's DEN - MEDIUM SHOT - NIGHT
Yatri lets out a long breath, eases back in her chair, looks into the middle distance, and a light smile crosses her face as she shakes her head slowly.
EXT. TOP OF ROCK - CLOSE-UP - NIGHT
Paco is trembling so much he can hardly hold his mobile.
J- Jim? It's- it's- It's okay. He's flying. Thank god!
EXT. AERIAL VIEW - LONG SHOT - NIGHT
The Woodcarver's canopy is seen from above, gliding smoothly over Gibraltar, making its way diagonally across the airport's runway.
CLOSE-UP OF WOODCARVER
His mouth is open as he gulps the air, recovering from the near disaster.
EXT. AERIAL VIEW OF CUSTOMS COMPOUND - LONG SHOT - NIGHT
The compound grows bigger as the Woodcarver approaches. The perimeter fence is faintly lit, but the compound itself is in near darkness.
EXT. WORM's-EYE-VIEW OF WOODCARVER
He is seen working the toggles to steer the canopy.
INT. JIM's VAN - MEDIUM SHOT - NIGHT
Jim's ASSISTANT holds aloft the large model helicopter. The rotors are not engaged, but the motor is running. Jim holds the radio controls, and revs the engine. On his forehead rest a pair of night-vision goggles. The revs drop to idling, and Jim opens the large door at the rear of the van. He disembarks, followed by his assistant.
ANOTHER ANGLE
We see the van parked on a vacant lot in what appears to be a deserted industrial area.
CLOSE-UP OF JIM
He pulls the goggles over his eyes, adjusts them, then looks into the distance.
JIM's POINT OF VIEW
In the distance we see the customs compound.
ANOTHER ANGLE
Jim's assistant places the helicopter on the ground and steps back. Slowly the blades start to rotate. He pulls a mobile 'phone from a pocket.
EXT. WOODCARVER - MEDIUM SHOT - NIGHT
We see him from below.
He pulls on the left toggle.
AERIAL VIEW OF CANOPY
It swings sharply to the left, then after a few seconds swings to the right to do a U-turn, then after another few seconds turns 90 degrees to the left, on course again for the compound which is very close now. We see a few cars moving into the customs post, which itself is under cover.
CLOSE-UP OF WOODCARVER
His face registers intense concentration as he comes in for the landing.
ANOTHER ANGLE
We see a LONG SHOT, side on, of the canopy approaching the compound. It appears the Woodcarver is too low.
CLOSE-UP OF WOODCARVER's FACE
He braces himself for the impact.
LONG SHOT SIDE ON
We see the Woodcarver drawing his knees up to his chest.
CLOSE-UP OF TOP OF COMPOUND WALL
The Woodcarver's trainers disturb the dust on top of the wall as they only just clear it.
EXT. FAR END OF COMPOUND - LONG SHOT - NIGHT
The Woodcarver under canopy approaches, a few metres off the ground. He is closing fast. Then abruptly both arms come down, toggles in hand, to activate the breaks. The canopy stalls and the Woodcarver floats gently to earth.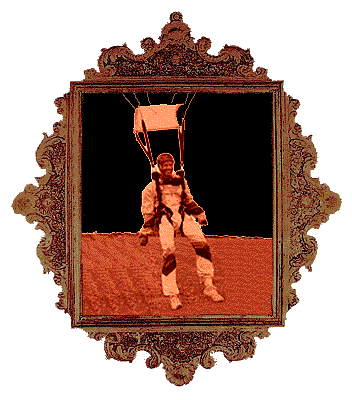 ANOTHER ANGLE
The Woodcarver pulls in the lines to collapse the canopy, and quickly gathers the material. He unbuckles the harness, swings it off his back and onto the ground, and stuffs the canopy into the container very fast. He swings this over one shoulder and heads for the shed against the perimeter fence. He enters through the doorless opening.
INT. CUSTOMS SHED - MEDIUM SHOT - NIGHT
The Woodcarver enters, stops, then peers into the darkness. He pulls a small flashlight from a pocket and shines this along shelves. At last the light reflects off a pair of eyes. It is His Royal Highness, King Sigurd!
Thank the heavens! You're safe. You're safe. Oh my beautiful little ones...
The beam of light from the torch picks out various other puppets, and the Woodcarver keeps uttering sweet nothings.
CLOSE-UP OF WOODCARVER
He pulls a mobile from a pocket.
EXT. VACANT LOT - MEDIUM SHOT - NIGHT
Jim's assistant is seen speaking into his mobile. He says something to Jim, who keeps looking into the distance and working the joysticks.
INT. CUSTOMS SHED - MEDIUM SHOT - NIGHT
The Woodcarver has a large net spread out on the ground. He places his parachute in the middle, then spreads a sheet next to it. Into this he lays the puppets one by one, as quickly as he can without being rough. He closes the sheet, lays it on top of the parachute, and brings together the four corners of the net, hooking them into a carabiner. Suddenly he becomes attentive, as if hearing something.
EXT. AIRPORT RUNWAY - LONG SHOT - NIGHT
A large commercial jetliner is just touching down. As it races past us, we hear the DEAFENING SOUND OF THE REVERSE THRUST of the engines.
EXT. CUSTOMS COMPOUND - LONG SHOT - NIGHT
The Woodcarver crouches beside the shed, speaking into his mobile. We do not hear him, only the sound of the JET ENGINES. He is looking up.
WOODCARVER's POINT OF VIEW.
The model helicopter hovers several metres above ground. The winch cable snakes downwards.
ANOTHER ANGLE
The Woodcarver hooks up the net, pulls his mobile from his top pocket, mouths into it, and we see the net beginning to rise.
CLOSE-UP OF WOODCARVER
Safe journey. My little ones.
EXT. AIRPORT TERMINAL - LONG SHOT - NIGHT
The commercial jet is approaching the terminal, the engines still WHINING. It stops, and the whining SUBSIDES.
EXT. SPANISH CUSTOMS POST - LONG SHOT - NIGHT
From the Gibraltar side of the border post, we see a few cars in line at the Spanish side. The customs and immigration officials are going about their business. We also see an old couple making their way towards the Spanish side, pedestrians wanting to cross the border. We see quite clearly, too, the closed door in the brick wall next to the customs office - the one leading to the compound. Suddenly the old man collapses, sinking to his knees and then falling over to lie prone. The old woman starts screaming hysterically. All eyes are now focussed on them. The Spanish officials stand staring for a few seconds while this all sinks in. From the Gibraltar side a police bobby comes running to the aid of the old man. Behind the Spanish customs men we see the door in the brick wall open, and the Woodcarver emerges. He starts running towards the old man, whom he reaches at the same moment as the bobby. The bobby examines the stricken man. Just then another BOBBY arrives with a rolled up stretcher. They lay this out on the ground, and the Woodcarver and one of the bobbies lift the old man onto it. The Woodcarver is quick to take up his position at one end of the stretcher, and, with one of the bobbies, takes the old man to a first-aid post on the Gibraltar side.
FADE OUT
EXT. THE PYRANNEES - AERIAL SHOT - DAY
The mountains are covered in snow. The few buildings of a hamlet can just be distinguished under the snow blanket. A hundred metres beyond them the red colour of Violetta, drawn over to the side of the road, stands out like a sore thumb. We hear the SONG "Optique".
INT./EXT. VIOLETTA - CLOSE-UP - DAY
From within the cab we see the side mirror. All that is reflected is the empty road. The Woodcarver's hand reaches out and claps the mirror closed, flush with the side of the vehicle. Then the hand claps it open again.
CLOSE-UP OF WOODCARVER
He smiles a little wry smile, remembering.....
EXT. THE PYRANNEES - AERIAL SHOT - DAY
A large truck climbs the last hundred metres to the top of the pass, then begins the descent. It slows and pulls up in front of Violetta. A man jumps down from the cab, waves to the Woodcarver who is also disembarking, then undoes the corner of the canvass covering the tail end of his truck. He climbs aboard, disappears, then reappears to pass the net with parachute and puppets to the waiting Woodcarver.
INT. VIOLETTA - MEDIUM SHOT - DAY
The marionettes and other puppets are all hanging or standing in their usual places. The Woodcarver is brewing tea on the cooker.
...And I wasn't scared at all-
MISS QUOTE
(Sceptically.)
From the world's champion arm wrestler, I would not have expected anything less.
No arm wrestling without written permission from the Minister of Sport - in quintiplicate - and that's final!
MISS QUOTE
(Singing huskily.)
I wanna be evil...I wanna be bad.
I have to write a column on all this, so I would like to know, sil vous plait, what it is we're doing, exactema.

His Majesty here is the new Pied Piper - with a difference.

Why, we will not lead little children to their death. Quite the opposite. We will resurrect the child in everyone.

VICTIMUS ULTIMUS
(Winging.)

And for how long am I to do this thankless task? Am I to work my fingers to the bone, to sacrifice my youth....? How long, pray?

Shall we say, till Mr. Smother here has learnt to dance-

-And Victimus Ultimus has found his inner king-

Okay, so now we know how long eternity is!

And now we will celebrate your homecoming with a double Rooibos tea all round. Fortify yourselves, my hearties, for we must go-

-"On on on on on, once more unto the breach".
FADE OUT
EXT. VIOLETTA - AERIAL SHOT - DAY
Violetta pulls onto the road and starts to make her way down the pass into France.
FADE OUT
EXT. VIOLETTA OUTSIDE JOHANNA's HOUSE IN AMSTERDAM - LONG SHOT - DAY
INT. VIOLETTA - MEDIUM SHOT - DAY
The Woodcarver and Johanna sit drinking tea. Johanna suddenly remembers something, picks up a parcel and hands it to him.
Oh, and this came for you. From Heidelberg.
He unwraps the parcel. It is a book.
CLOSE-UP OF BOOK
We see the title. It reads: "You are the Miracle". Below that a sub-head: "The paranormal is normal." By Dr. Yatri von Bingham.
ANOTHER ANGLE
The Woodcarver shakes his head slowly, in admiration, then turns his head to look in the direction where the Magic Mirror is hanging.
CLOSE-UP OF MIRROR
Inside the mirror, FADE IN view of Yatri in a bookstore, sitting at a table signing copies of her book for customers who are queuing. As the CAMERA PULLS BACK the thermos flask comes into view on the edge of the table, as does a crystal ball. Yatri turns to peer into the ball.
YATRI's POINT OF VIEW
We see the crystal ball. ZOOM INTO crystal ball, and now FADE IN view of Leidseplein, which grows and grows until it fills the frame.
EXT. LEIDSEPLEIN - LONG SHOT - DAY
It is spring and the square is packed. From a BIRD's-EYE-VIEW, the camera drops down to knee height and works its way through the legs of the crowd, till it has an unimpeded view of the "stage" where the main acts are taking place. The unicyclist-cum-juggler of earlier scenes catches his three fire-sticks, rides back and forth shaking hands and acknowledging the applause. The CAMERA follows him as he rides off to the right and dismounts. The CAMERA swings back slowly as we hear the dramatic ROLL OF DRUMS. As the CAMERA swings back to "centre stage" it has ZOOMED IN so that we now see only legs, legs and more legs. The CAMERA stops and we now have a CLOSE-UP of the Woodcarver's boots with red shoelaces. The camera PULLS BACK and moves upwards. We gradually see more and more of the Woodcarver. His cape is drawn closed in front. His head is down, so we see the top of the top hat. Slowly, as the roll of drums grows LOUDER, he lifts his head and we see his eyes - confident eyes - looking straight into the lens. There is a LOUD CRASHING OF CYMBALS and the cape flies open. King Sigurd is suspended from the Woodcarver's neck, at the height of the Woodcarver's chest, by a specially knotted cord. Adroitly he pulls a pin from the cord, and as it unwinds King Sigurd drops neatly to the ground. In the same movement, the Woodcarver's skilled hands start working the controls, and His Majesty dances and waves and jumps into the arms - and hearts - of the applauding crowd. (We note he has a slight preference for the girls.) The SONG "Walkabout in Paradise" has faded in. When we hear the words "another shitty day in paradise" the Woodcarver turns his head to look up at the window of his old newsroom.
EXT. WINDOW - MEDIUM SHOT - DAY
Rick is standing at the window, looking for all the world like the forlorn Sigurd of earlier times. He stares down, vacantly, into the square. An older man, the white-haired editor, comes up behind him, puts an arm around his shoulder, says something, and pulls Rick gently along with him. They move out of view.
EXT. LEIDSEPLEIN - MEDIUM SHOT - DAY
The SONG has reached the last verse. The Woodcarver sings.
Said the King, who is very wise...
The Woodcarver drops to one knee.
CLOSE-UP
The Woodcarver's face is close to that of King Sigurd, as the king now takes over the song.
...When will we realise, all you have to do is open your eyes, to see that we are in paradise.
EXT. LEIDSEPLEIN - LONG SHOT - DAY
The Woodcarver and King Sigurd bow to the applause. Coins fly into the "centabakje", reward for the bold and the brave. The Woodcarver reaches over to a stand behind the Castle, brings it forward, and turns it so we see a picture frame with, in it, the text of the chorus of the next song, "Journey to Nowhere".
CLOSE-UP
The Woodcarver and King Sigurd sing the first verse.
Going nowhere.
EXT. LEIDSEPLEIN - LONG SHOT - DAY
The Woodcarver points to the text, and the crowd start to sing along.
We are moving, on a Journey to Nowhere, taking it easy, taking it slow. There is no hurry, not even a worry, nothing to carry, let it all go.
As the crowd repeat the chorus, the CAMERA slowly PULLS BACK and RISES, giving a panoramic view of the famous Amsterdam square.
FADE TO BLACK
The silhouettes of the Woodcarver and the King fill the frame, then gradually white space appears on the left as the silhouettes get smaller. They are walking. The credits appear on the left, and as they proceed the silhouettes gradually become smaller and smaller, until they become just pinpoints... and disappear.
THE END